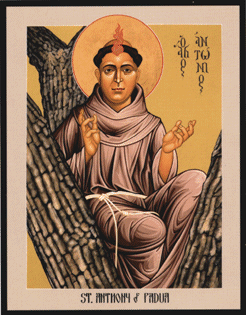 One of the significant days of this month is June 13th, my name day. My parents made sure I would spend my life gaining easy and instant recognition as a good Catholic boy by naming me after St Anthony of Padua whose feast-day falls on this day

Now this saint should not be confused with the many other holy Anthonys who have front row seats in the celestial realm.

My "Anthony" is a one of Catholicism's pin-up boys. He is patron for a number of a eternal chores that occupy most of his working days
In his spare time he poses for thousand of popular images and statues that adorn churches homes and religious houses.

Somewhere along the timeline he also found time to star in a series of movies. My favourite is this classic from the silent movie era made long before the days inter-religious dialogue.
:
It's always good to remember that saints are often given to us to admire rather than imitate. Anthony was part of the weird and wonderful world of medieval Catholicism in the early 13th century. He died at 36 in 1231 and never had an intimate relationship
. So far I've outlived him and have not found the queue for the call to lifelong chastity.
Anthony was a great public speaker and had a pretty sharp intellect. Catholicism has a quaint practice of awarding posthumous PhDs to smart cookies and Anthony eventually got his in 1946.
Iconography of the saints is a big business as Churches, Monasteries, Convents,Schools, Oratories, Retreat Centres,Presbyteries and the humble domestic house have all gone shopping for their heavenly personalities to decorate walls. Anthony has quite large choice for the discerning shopper.
This feast falls within the anniversary of the death and burial of Anthony Foster who won't make it into the Litany of Saints but will be remembered for his passionate challenge to the Church.and its sad history of clergy sexual abuse. Anthony Foster's legacy has ensured that the Church has to undergo a shift in culture. Perhaps it is time to replace the popular 17th Century image of St Anthony with the child Jesus as no longer appropriate. Despite an attempt to theologise the image I suggest it is one that has well passed its use by date. The icon used in this blog is from the work of Robert Lentz OFM.

Tourism is also part of every saints working life after death. Anthony has inspired a series of Churches and Basilicas. In Melbourne the local Capuchins applied for an extension of their friary chapel back in the 1950s. By the time they finished Power Street Hawthorn was adorned with its very own Italianate Shrine to St Anthony.

I have also discovered that Anthony himself goes on tour for special events. He last appeared in 2010 when his less than attractive remains were taken for a lap of honour around his home base Basilica. Close up pic here. However, it seems that the locals may have been short changed as a bit of his floating rib goes out on tour minus the rest of the bones.



Behind the

saccherine hagiography

lies the story of a man of faith and service, a man of his time with passion for truth, people and the needs of his era. Yeh, I still invoke him when things go missing and he has been part of my community of faith since my childhood days when his pic used to hang in my parents house over the bathroom door!!!.



So here's a call out to all those who share variants of the name Anthony! Celebrate, eat some good bread, indulge in some Italian or Portugese wine and make a public statement about your passions